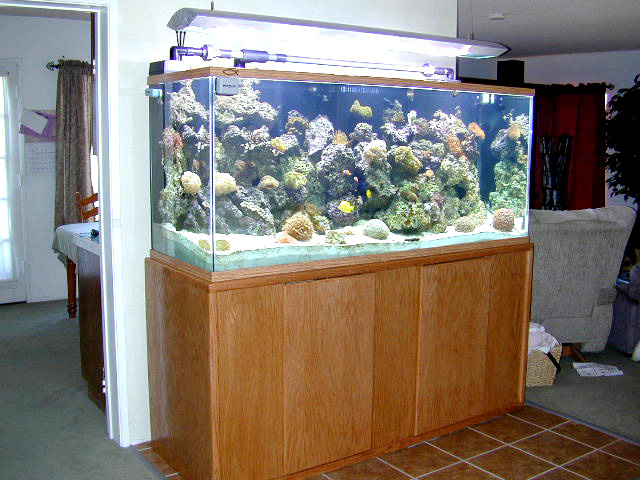 The aquarium is 225 gallons with the dimensions of 72" x 24" x 30". The stand was made with a cut out for the overflow plumbing and plenty of room for the sump, pumps, and other equipment.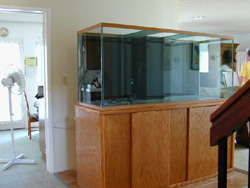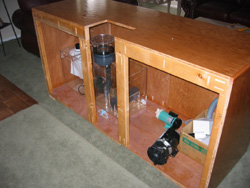 The reef is basically a Berlin Type System with a sump containing no mechanical filtration, a Euro Reef 8-2 spin off skimmer, and live rock. The sump has a suspended fan blowing across the water surface to aid in evaporative cooling. An Iwaki 40 RLT (750gph) pump is used for returning water from the sump and a Dolphin 3600 is used for circulation via two 1" Sea Swirl returns.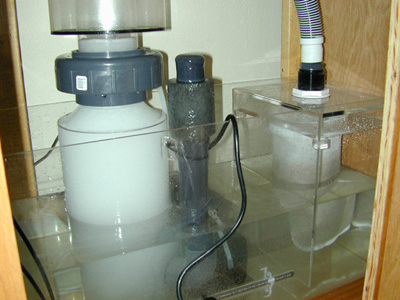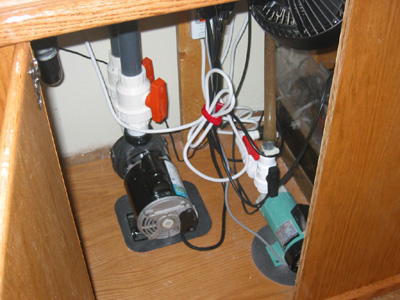 The Sea Swirls are used for chaotic water movement which has worked out very well. The overflow is filled with live rock to "try" and quiet down the noise of the water.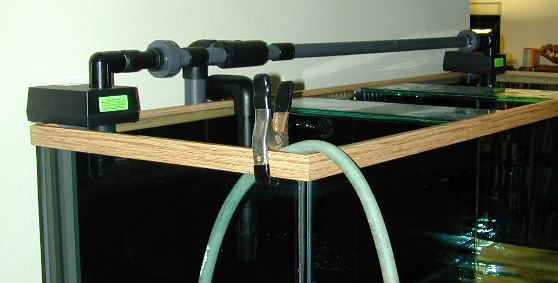 There is no canopy on the system with an Aqua medic light system suspended above the tank. The lighting consists of 3 - 250 watt HQI 10K metal halides with 4 - 55 watt actinic power compacts. The lights and ballasts being suspended above the tank with no canopy adds to heat dissipation so the water does not heat up "too" much.
The water runs at a temperature of 80 degrees Fahrenheit with slight variances during the night and on hot days, but with the water volume, stays very stable.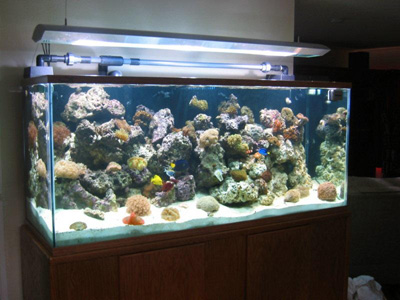 Ihere is 350+ pounds of Fiji Live Rock and around 200+ pounds of Live Sand. Reef inhabitants include the following: Dejardini Tang, Powder Blue Tang, Purple Tang, Flamingi Tang, Chevron Tang, Blue Tang, (not too much algae to worry about!), Moorish Idol, Clown Blenny, Red Head Blenny, many Blue Chromis', Peppermint Shrimp, Turbo Snails plus 500+ baby Turbo snails, Bumble Bee snails plus 200+ baby Bumble Bee snails, too many serpent stars and Limpets to count, and Sand Stars. SPS, LPS, and soft corals round out the reef.
Our aquatic supervion team...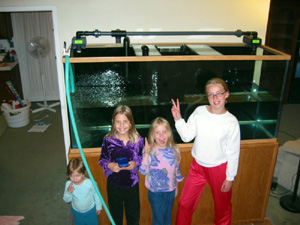 Visit the Aquarium Design home page